This week in muse flogging, 4 Sept 2010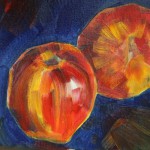 In my studio this week:
I've been pretty diligent about keeping up with my daily paintings, although I don't seem to be able to stick to any single subject or style for very long. This week I painted palette-knife cities, still lifes, and Oktoberfest scenes.
I've been re-working my portrait of Jen to the point where it's either done, or I need to set it aside for a while. Photo coming soon.
I got a delivery of art supplies, despite a pile of ridiculous things going wrong with the order (some totally my fault). Yay for great delivery service! (Did I really just praise German customer service? Wow. That might be a first.) And yay for new canvas boards and new colors of oil paint.
Other exciting stuff:
I discovered the American TV series Work of Art and devoured the entire first season in a few days (I like to put shows, movies, music, or podcasts on in the background while I paint). I can't decide whether I love it or hate it, but I'm glad it exists. At the end of the day, I'm a sucker for certain reality TV shows, and this was definitely one that kept me entertained, if not impressed. Have you seen it?
What were your creative accomplishments for the week?