Stocked up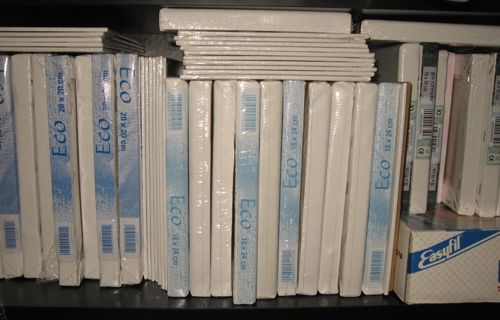 I love starting the day with a delivery of art supplies to unpack. So much artistic potential!
This time the delivery was mostly little canvases and canvas boards. I started the practice of daily painting about three months ago, and I've found it to be something I want to continue for a while. I enjoy pushing myself to experiment with new subjects, colors, and layouts in these small-scale works. Now I am all set for a couple more months of daily painting.
I realized I made a mistake  – I got ten 10 x 15 cm canvases instead of the 15 x 20 cm canvases I meant to order. These 10 x 15s are so tiny! Not sure what I'm going to do with them, but I'll figure something out.
Do you enjoy shopping for art supplies? I think I like it just as much as using them.
—
Like this blog? Please consider following me on Twitter or becoming a fan of my art on Facebook. I really appreciate your support!