Easels and organizing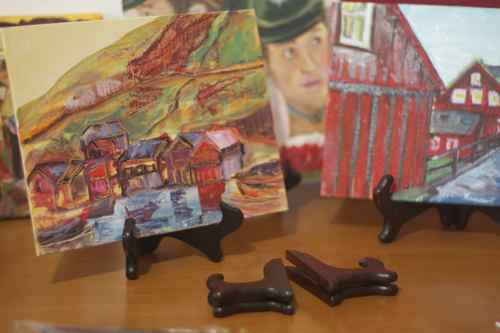 I had my parents bring me some small display easels from the US (all of the ones I've found for sale so far in Germany are ugly). They are perfect for displaying my daily paintings done on canvas board and hard board, which will come in handy in my studio (collectors often visit so I like to keep as much work on display as possible) and for a home show I have coming up in a couple months. Now to get my hands on a few dozen more, and I'll be all set.
As I mentioned in my last post, this week is all about wrapping up 2010 and getting excited for 2011. I have been reorganizing my studio, gessoing over some old canvases, assessing my inventory, and thinking about my priorities for the coming year.
I think I've decided that January will be dedicated to some pretty intense studio time (interrupted, as always, with a little travel), since one of my ongoing excuses for not showing my work is the fact that I don't really have a complete body of work on hand to show. I am not good at sticking to the same subject matter for long enough to fill a gallery. In 2010 I focused more on small daily paintings; while I want to continue making them in 2011, I also want to refocus on getting a group of larger cityscapes done.
What are you up to this week between holidays?