Inspiration from the Faroe Islands
Voted the best islands in the world by National Geographic Traveler, the Faroes are full of breathtaking views that would inspire almost anyone to create. I'm in the middle of a series of daily paintings inspired by the Faroes, myself.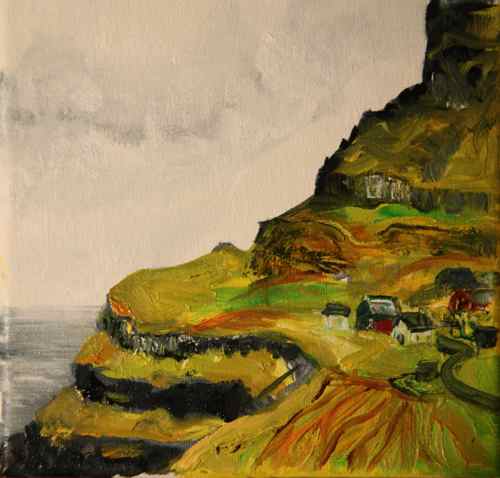 This painting is available in my online shop.
My husband and I were thrilled to win a trip to the Faroe Islands in conjunction with TBEX Copenhagen last month. Visit Faroe Islands was so generous to us, and we want to share some of that generosity with readers of Flogging the Muse. So I've assembled a goodie bag full of fun stuff from the Faroes, including a piece of handmade relief art, a CD of local music, a gorgeous book featuring works by local artists, a DVD and photo book which show off the islands' unique landscape and culture, some postcards, and a few other little treats.
Leave a comment on this post telling me about the most inspiring place you've ever been. A mountain top on the other side of the world? A favorite corner of your own back yard?
Edited: We have a winner! Thanks so much to everyone who entered!