Revisiting Venice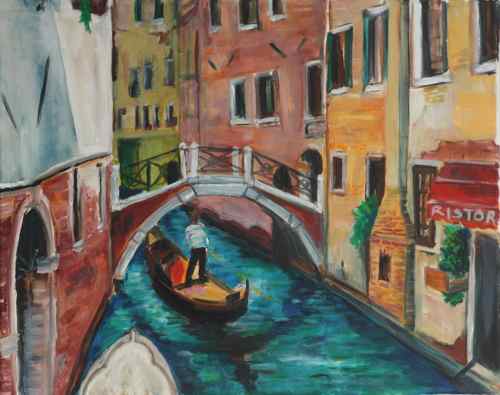 Venice gondoliere, oil on canvas, 40 x 50 cm, ©2011 Julie Galante.
If you follow this or my other blog, you'll have an idea how much I love Italy. It seems unfair that a single country can contain so much wonderful food, art, and beauty. I find the combination irresistible. So it's not so surprising that Italy keeps making appearances in my artwork. I am particularly fascinated with the way that old Italian buildings and towns manage to decay in a way that is so intensely visually appealing.
Venice is not one of my favorite cities to visit in Italy. I don't dislike the place; I just think there are plenty of better destinations for experiencing the atmosphere (and cuisines) of the country. But Venice definitely excels at beautiful decay.