Daily painting: a harbor in Croatia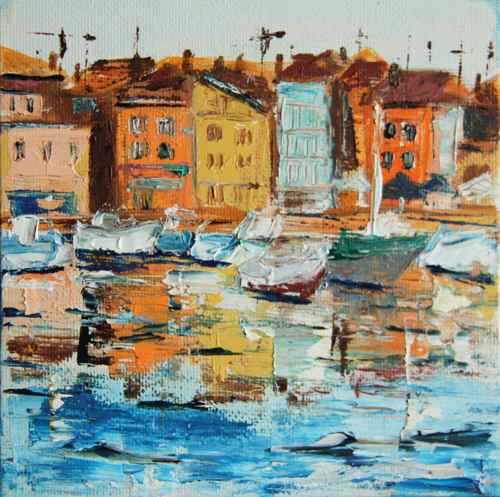 Rovinj harbor, oil on canvas board, 15 x 15 cm, ©2011 Julie Galante. [SOLD]
Recently I've been starting to use other people's photographs as the inspiration for some of my paintings. I'm trying to get a feel for whether I'd enjoy painting cityscapes on commission, so I asked a few friends to provide me with some of their favorite photos from their hometown or a fondly-remembered vacation.
Working with these photographs (and my pretend clients) has been a valuable experience. I'm learning how to explain to others what makes for a good painting photo and what doesn't, something I had never bothered trying to articulate before. Eventually I'll put together the key points in a guide for potential commission customers. I have something similar for my clients about portrait commissions already, and it is very useful in helping me get good reference photos even when I'm not able to take them myself.
This painting is based on a photo from my friends the Regensbloggers. I happened to be with them on the trip when this photo was taken, so at least getting a feel for the place was easy enough.
Do you paint commissions?