Dreaming up some art influences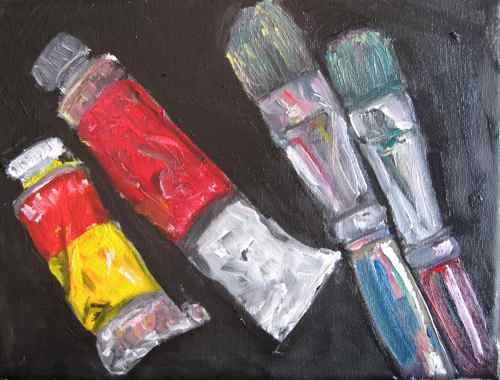 Two paint tubes, two brushes | 15 x 20 cm | oil on canvas | ©2011 Julie Galante | available on Etsy
Last night I dreamed I was interviewing for something art-related. The interviewer (a stern older man) asked me what artists influenced me. I struggled to answer this, tossing out the first names of artists that came to my head, even though they weren't amongst my favorites, and in some cases I couldn't picture their work at all. At one point I kept saying "Peter Fischli and David Weiss" over and over, even though I knew it was the wrong answer. Then I finally stumbled onto a better answer: Giorgio de Chirico. I started describing his work and what parts appealed to me. (Oh yeah, and this was all in German, and I didn't know the German word for "mannequin" but the interviewer corrected me, but now I forget what he told me the word was. I wonder if it was the right one.)
The interviewers seemed pleased with my answer, and told me it was good that I had stopped telling them what I thought they wanted to hear. I thought that was odd, given that my earlier attempts to name my influential artists were bad not because I wanted to tell them what they wanted to hear, but rather because I couldn't think of anyone else.
At least I wasn't naked.
So, does my subconscious think the art world wants me to be more like Fischli and Weiss, when really I want to be more like De Chirico? Yeah, that sounds about right.
Artists: What artists do you list amongst your influences? And do you have weird stressful art world dreams, or am I the only one?