Daily Painting: Munich – Odeonsplatz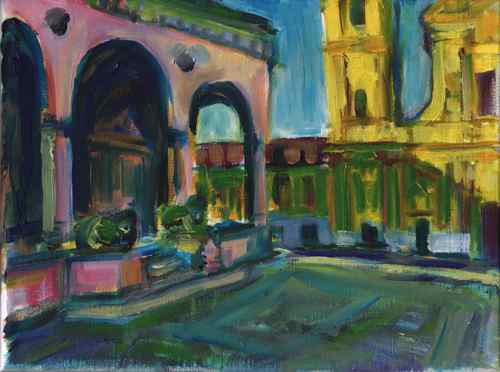 Study: Munich Odeonsplatz, oil on canvas, 18 x 24 cm,  ©2011 Julie Galante. [SOLD]
I haven't been doing very many daily paintings recently; my large series of portraits and a couple commissions are taking up most of my studio time these days. I'm excited about everything I'm working on, but I miss having these little paintings to share regularly here on my blog.
My daily paintings continue to be rather popular with collectors, though, which means my stock of them is dwindling (the ones that I have left are available in my online shop). I will have to get back to making more of them soon.
This painting was bought as soon as it was dry, by a visitor to my studio. Have you ever gone to visit an artist in her studio? Do you open your studio to visitors?