On being a doer, and an attribute portrait in progress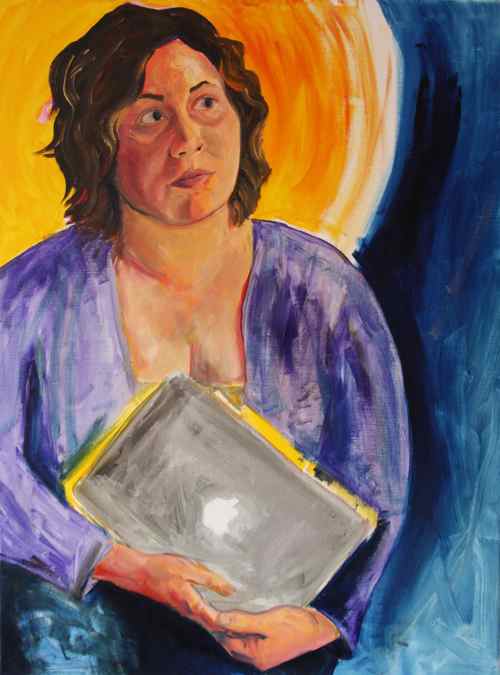 Woman with MacBook Air (work in progress), 80 x 60 cm, oil on canvas, ©2011 Julie Galante
I am loving my current project, a big series of portraits with modern technology attributes. The first four or five portraits should be complete and up on my website within a week or so. My goal is to have at least twelve finished by the end of August. This will be a stretch, but I'm optimistic that I can make it work.
I started thinking about people I call 'stallers' and 'doers' during a recent meeting with my creative group. I have met a lot of creative people in my life. The big difference between those who are wildly successful and those who aren't has very little to do with talent or the quality of the work they're capable of; the difference usually lies between stallers and doers. Stallers can have great artistic talent, but that doesn't really matter, because they don't produce much art. What they do produce, few people see. And when it comes to pursuing ways to show or sell their art? Forget it. Stallers are too busy coming up with excuses to take advantage of opportunities that fall in their lap, much less opportunities that they themselves create.
Doers, on the other hand, are less talk and more action. Their artwork gets shown because they find places to show it. Their novels get published because they go out and find publishers. Their freelance careers are flush with business because they hang out their shingles and find ways to attract clients. I love doers. Stallers make me kind of crazy.
In my creative group, we have both kinds of people. The doers set themselves bi-weekly and yearly goals that are ambitious but attainable, and then they go out and exceed these goals with infectious enthusiasm. The stallers set goals that are theoretically easy to reach, but they won't achieve them anyway. The one thing they produce that is elaborate and thought-out is their list of excuses.
The good news is this: stallers can absolutely become doers. Most of us have probably gone through a period of being a staller in our lives. What matters is how long we let it go on. I have definitely spent time as a staller, but today I'm a doer.
Are you a staller or a doer?