Munich's Marienplatz makes an appearance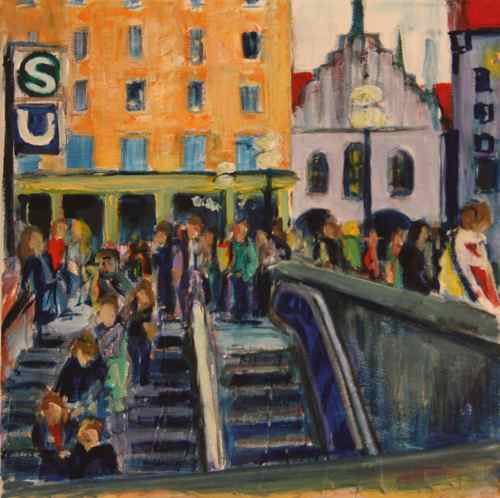 Marienplatz S/U, 30 x 30 cm, oil on canvas, ©2011 Julie Galante.
Marienplatz is Munich's iconic main square, and it seems like a natural subject to take up if you're painting this city. I do think it's a lovely place, but it just doesn't call to me the way other parts of the city do, so I haven't painted it very much. This particular scene was fun to paint, though, focused more on the entrance to the underground trains and less on the monumental architecture.
Are you signed up to receive my extremely occasional totally free email newsletter yet? The second ever addition will be coming out this week, and it will feature an exciting discount on my artwork, exclusive to newsletter readers! If you've been considering adding one of my women in dirndls or other daily paintings to your collection, you won't want to miss it.