Day 29: sunny Odeonsplatz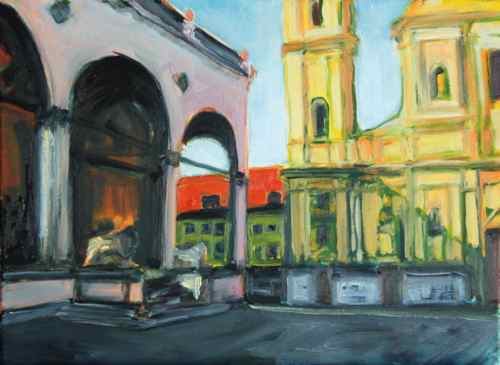 A sunny winter morning in Munich's Odeonsplatz, 30 x 40 cm, oil on canvas, ©2011 Julie Galante. Available for sale on Etsy.
More Munich for you today. This painting is kind of a companion piece to day 15's Snowy Day in Odeonsplatz. It also depicts a winter day, but without snow (I know it's winter by how low the sun is in the southern sky, leaving much of the square in shadow).
November is Art Every Day Month. I'll be posting a new small painting here each and every day. After they have had time to dry (a couple weeks), most of the original paintings will also appear in my Etsy shop. Paintings from the beginning of the month are already there! Christmas cards, too.