Day 30: Christmas market on Marienplatz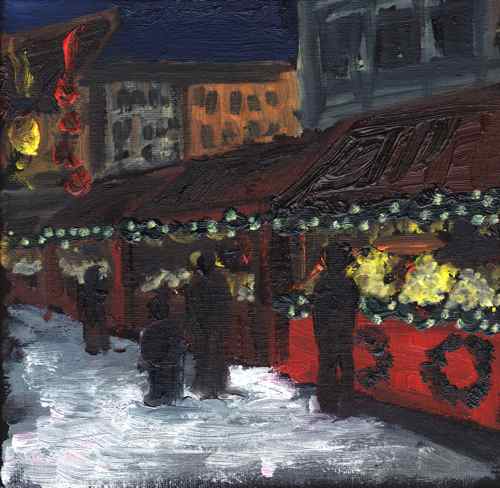 Christmas market on Marienplatz, 15 x 15 cm, oil on canvas, ©2011 Julie Galante. [SOLD]
The last day! I have had so much fun during this Art Every Day Month. I've loved getting to know other AEDMers through their blogs, and I'm pretty pleased with the paintings I've produced. Thank you all so much for stopping by and especially for all your lovely lovely comments!
For me it's now on to the next adventure – getting everything ready for my Open Studio on Sunday. Still lots to do: cleaning, hanging paintings, making sure they're all signed and dusted, deciding what I'm going to serve… This is the second Open Studio I've hosted this year, so at least I know what to expect. I think I'm half as nervous as I was the first time.
November is Art Every Day Month. I'll be posting a new small painting here each and every day. After they have had time to dry, most of the original paintings will also appear in my Etsy shop. Paintings from the beginning of the month are already there! Christmas cards, too.