Day 17: Munich's Volksbad on the Isar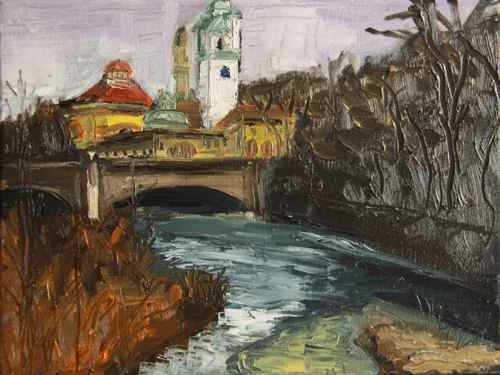 Munich's Volksbad on the Isar, 18 x 24 cm, oil on canvas, ©2011 Julie Galante. [SOLD]
The Müller'sches Volksbad is Munich's incredibly beautiful Art Nouveau indoor swimming pool. It is located next to a shallow part of the Isar, the river that runs through the city. I love looking at it. And painting it.
I am really starting to enjoy this painting-every-day business. I might have to declare more months to include art every day (but ask me again tomorrow or the next day when I'm less than happy with whatever painting I produce).
November is Art Every Day Month. I'll be posting a new small painting here each and every day. After they have had time to dry (a couple weeks), the original paintings will also appear in my Etsy shop. Paintings from the beginning of the month are already there, as are a couple Christmas cards based on my seasonal Munich paintings.