Day 27: Miniature Munich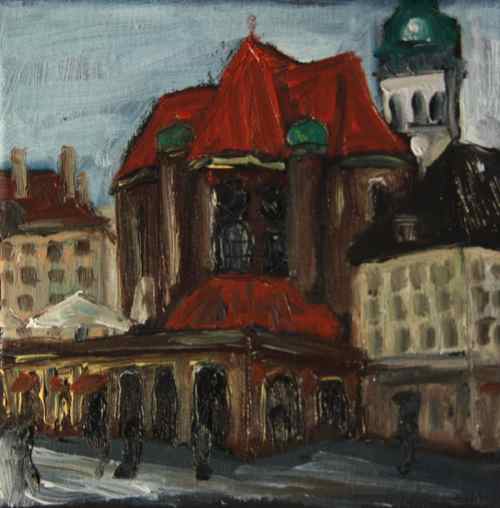 Alter Peter in Miniature, 15 x 15 cm, oil on canvas, ©2011 Julie Galante. [SOLD]
I don't usually do cityscapes on these tiny (6 x 6 inch) canvases. I don't have the world's steadiest hand, so putting in such small details isn't easy (that's why this painting is pretty loose). I think the result is kind of cute, central Munich in miniature.
More Open Studio prep going on around here today (it's only a week away!). Nails are going in for a second display wall for little daily paintings, since I have so many on hand thanks to Art Every Day Month. I just hope that will all this shuffling around we don't forget that a lot of them are still wet.
November is Art Every Day Month. I'll be posting a new small painting here each and every day. After they have had time to dry (a couple weeks), most of the original paintings will also appear in my Etsy shop. Paintings from the beginning of the month are already there! Christmas cards, too.