Day 22: Dementor Bridge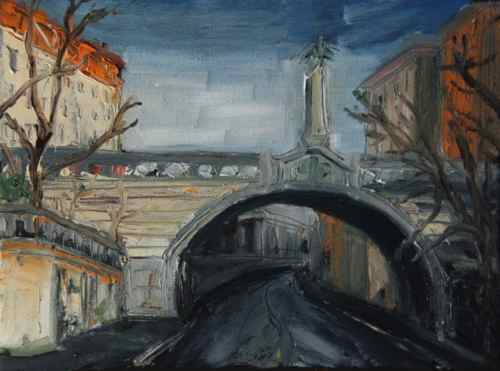 Gebsattelstraße, 18 x 24 cm, oil on canvas, ©2011 Julie Galante. [SOLD]
This is a bridge in my Munich neighborhood which has a creepy-looking statue of the Münchner Kindl (the city's cloak-wearing mascot) on it; some friends have dubbed it Dementor Bridge, due to the Kindl's similarity to certain characters in the Harry Potter books. I think it's a name that's going to stick, at least in my head.
This painting is the third of my AEDM ones to sell before being dry enough to list in my Etsy shop. Have to love those enthusiastic collectors!
November is Art Every Day Month. I'll be posting a new small painting here each and every day. After they have had time to dry (a couple weeks), most of the original paintings will also appear in my Etsy shop. Paintings from the beginning of the month are already there! Christmas cards, too.