Day 24: Thanksgiving dumpling squash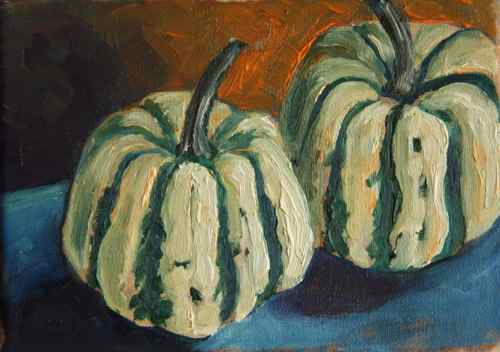 Dumpling squash, 13 x 18 cm, oil on canvas, ©2011 Julie Galante. Original painting available for sale on Etsy.
If there were any wall space whatsoever in my kitchen, I might like to hang this painting in there. It reminds me how tasty these squash are. Can't wait to roast up the models for lunch!
This Thanksgiving, I am especially thankful for all of you who take the time to look at my art, comment on posts, and in general offer support to me as an artist. I couldn't do it without you!
November is Art Every Day Month. I'll be posting a new small painting here each and every day. After they have had time to dry (a couple weeks), most of the original paintings will also appear in my Etsy shop. Paintings from the beginning of the month are already there! Christmas cards, too.