What next?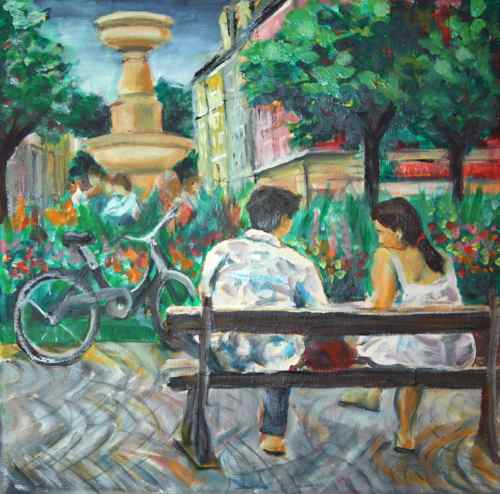 Munich – Gärtnerplatz, 30 x 30 cm, oil on canvas, ©2011 Julie Galante. [SOLD]
So, Art Every Day Month is over, and I survived my Open Studio on Sunday (actually more than survived – enjoyed!). Now what? I still have a few paintings to package up and deliver to collectors, but otherwise my to-do list has become blissfully short.
In the studio, I'm looking forward to getting back to painting my dirndl portraits. I want to get the entire 10-12 painting series finished by the end of January or early February.
Since it is December, I'm also starting to think about my big goals for next year. I have some shorter-term goals for the beginning of the year, but so far I'm having trouble thinking of some good ones for all of 2012. What's next for my art career? In general, I'd like to continue to push myself as an artist, creating work I am proud of. I'd like to continue to expand my work's audience and collector base. But the specific way forward is still a little hazy. Hopefully it will become clearer over the next couple weeks.
What are you up to this December?