A look inside Mixed+Media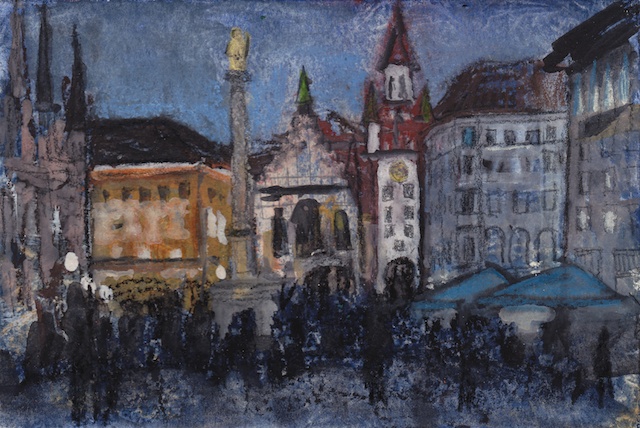 Munich: Marienplatz, 10 x 15 cm, mixed media on watercolor paper, ©2012 Julie Galante. [SOLD]
I had a wonderful time at the opening of my group show Mixed+Media on Tuesday evening. We had a great crowd, very engaged with the artwork. I had a number of encouraging discussions about my work, and even managed to sell several of the pieces I made for the show. Pretty much everything you could want from an opening!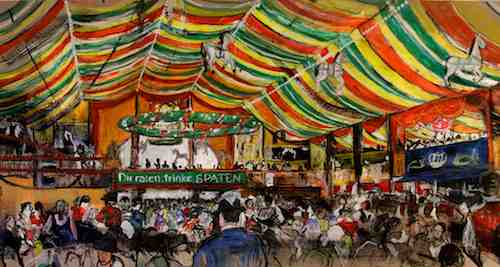 A messy afternoon in the Hippodrom, 100 x 200 cm, mixed media on recycled drawing paper, ©2012 Julie Galante.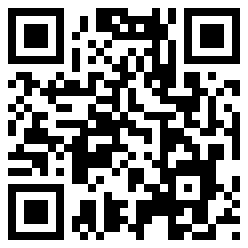 Some of the works of art on display had QR codes on their information labels. These codes could take a visitor with a smartphone to a web page with more information about the artwork or the artist. I had QR codes next to four of my pieces, and this is where they directed visitors:
Woman with DSLR
(More information about my portraits.)
Munich – Marienplatz
(I can't seem to get Munich out of my art.)
A messy afternoon in the Hippodrom
(Some details about this piece and my strange Hippodrom fixation.)
Father Mathew Bridge, Dublin
(A couple quick thoughts about Dublin and why we're seeing it at this show. )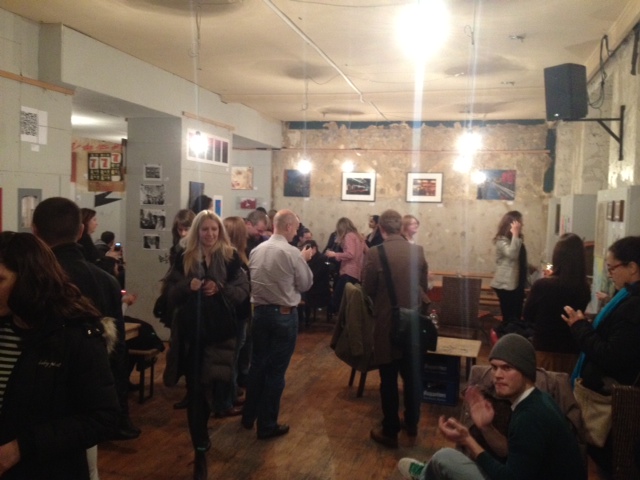 The venue itself was a provisional space (aptly called "Das Provisorium") . The walls were a little rough and unfinished, but on the plus side nobody cared how many nail holes we made in them. It's not a venue where I'd hang my oil paintings, but for the purposes of this show it worked well.