Munich painting: a sunny day at Cafe Nymphenburg Sekt, Viktualienmarkt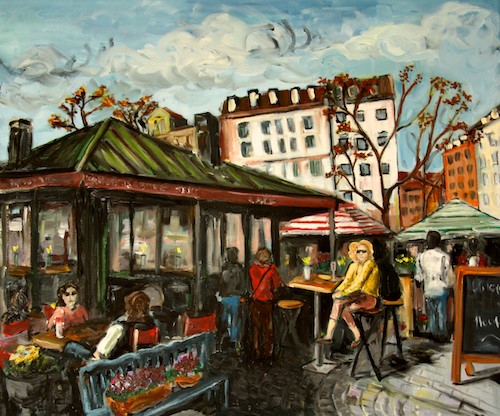 Cafe Nymphenburg Sekt at the Viktualienmarkt, 50 x 60 cm, oil on canvas, ©2012 Julie Galante. [SOLD] Prints available.
The daily paintings in my studio these days are all about sushi, but the larger works on my easel are mostly new Munich scenes. In this one I tried to capture a bit of the jumble of colors and shapes that is the Viktualienmarkt on a sunny day. Viktualienmarkt is the big outdoor market in the center of Munich. In addition to vendors of fruits and vegetables, cheeses and meats, there are a couple of kiosk cafes and shops strewn about. Cafe Nymphenburg Sekt (named after a local sparkling wine) stands in between flower vendors and fresh produce stalls, and is a popular place for a coffee (or something more intoxicating) on a beautiful day.
I stop and take pictures almost every time I walk through Viktualienmarkt, usually a couple times per week at least. I blend right in with the numerous tourists who are also snapping away.