Work in progress: big painting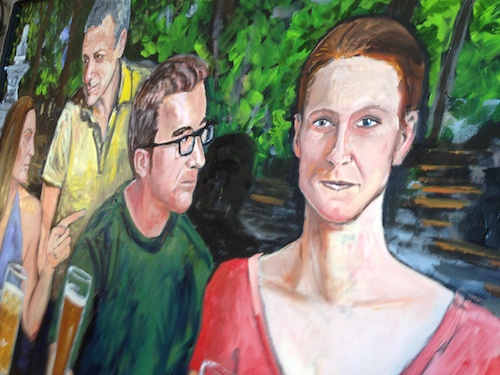 While all my small cityscapes are across town in a gallery show, I've been busy in my studio finishing up some larger paintings for my next show. Well, one painting. One giant, three-paneled monstrosity that it definitely too big for this studio, and too ambitious for the timeframe. But it's fun to work on, and I'm learning a lot from the project.
All together it's a 4.5-meter-long oil painting of 13 people sitting at a long table in a Munich beer garden. It incorporates pretty much all of the subjects I have been using for the past couple years: portraiture, still life, beer gardens, life in Munich. It's turning into my last big tribute to the city. I am racing to get it finished (or finished enough) in time for the München (Un)Gewohnt exhibition, which opens in a few weeks. I need to stop working on it this week so it will have time to dry enough to be transported to the gallery. Next time I undertake a painting this large, I want six months to work on it.