Getting into art every day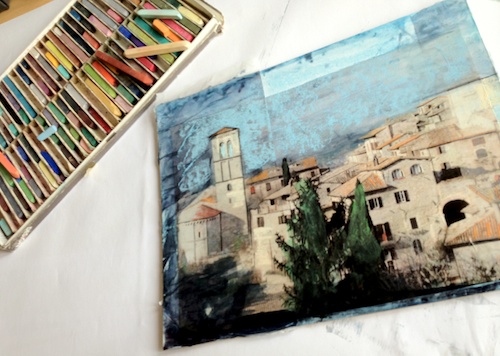 I've participated in Leah's November Art Every Day Month for several years now. I really enjoy the challenge of making time for art every single day, no matter how full my schedule or where in the world I might be (plus I love connecting with the other participating artists). This year is going to be particularly interesting, since I'm in the middle of an international move and because I'll be spending the end of the month in Assisi, Italy, as an artist in residence at Arte Studio Ginestrelle.
I am primarily an oil painter, but I've stopped oil painting for the time being. I don't want to have to deal with not-quite-dry paintings when the movers come at the end of the month. I'm using this time to experiment with mixed-media techniques. I've done a few mixed media pieces so far this year, and there's so much more I want to learn as far as materials and techniques go.
Do you work in mixed media? What are your favorite methods or materials to use? (Even better – if you have a blog post about your mixed-media techniques, please share a link with us!)