Mixed-media portrait: Betty in her dirndl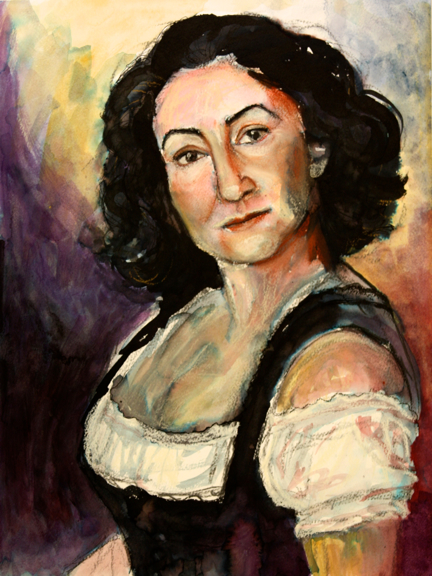 Betty in her dirndl, 56 x 42 cm, mixed media on watercolor paper, ©2012 Julie Galante.
I'm proud to say that I'm still managing to fit in a little bit of art every day, even amongst the pre-move chaos. Less than two weeks left in this apartment, and this studio. I'm focusing on mixed-media techniques and trying to decide what materials are essential for my process. I'll be living in four different countries over the next four months, out of a suitcase for most of the time, so I need to think rationally about which art supplies are going to come with me.
I submitted my Tokyo residency project to Kickstarter for approval yesterday. I should hear from them in a couple days as to whether my project meets their requirements. I know several other artists have used Kickstarter to raise funds for residencies in the past, so I should be ok. One more thing checked off the to-do list!
I shared the preliminary sketch for this portrait a couple days ago. I am pleased with how it came out. But, it reminds me of an ongoing question I have about how much my portraits need to look like the person portrayed. I am a little face blind, meaning I have trouble recognising people, which means I have a hard time knowing whether my portraits really look like their subjects unless I analyse them systematically (by comparing the reference photo to my work). This is an important step when the portrait I'm painting is a commission, but when it's a piece I'm doing for my own purposes, I tend to leave it out.
If I'm happy with the work of art as a work of art, what does the original reference photo matter anymore? Still, there's a bit of my pride that wants people to say "Wow, that looks just like so-and-so!" Recognition is one of the main points of judgement for portraits. As it should be, if the main purpose of the work of art is to portray a specific human being. But I'm not sure that's the main point of a piece like this. More thinking needed on this topic.