From Tokyo to Edinburgh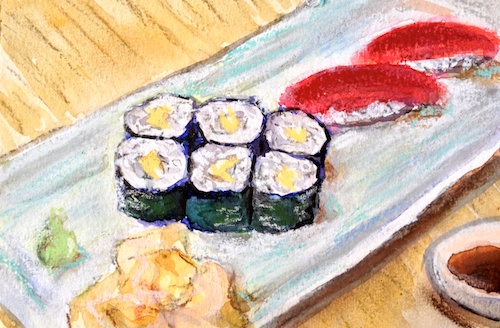 Sushi Plate, 10 x 15 cm, mixed media on watercolor paper, ©2013 Julie Galante. [SOLD]
Hello from Scotland! I am here amongst moving boxes in our new apartment (or 'flat' as the locals would have us believe it is called). My month in Tokyo feels like it was all a dream as I go through the process of settling into yet another new country. Despite the cold, sleet, and wind of the past few days, I'm already completely in love with this city. It seems to fit my aesthetic preferences perfectly (the whisky doesn't hurt, either).
After having all of our belongings in storage for several months, I am happy to finally be reunited with my artwork. As I find my daily paintings and confirm their condition, I'm slowly re-listing them in my Etsy shop. It will be nice to be set up for business again, to be able to pay some attention to my collectors instead of my travel schedule. It has probably been 4 months since I put out a newsletter – better add that to the to-do list.
These days I am also continuing work on my series inspired by Tokyo. I'm having fun playing with ideas and images in my sketchbook and in small mixed-media pieces as I decide on a direction for the larger works. I enjoy having this daily connection to my time in Tokyo. I'm really hoping to return to Japan sometime soon. But first, I'm looking forward to getting to know Edinburgh a little better.