Munich Creative Group
***If you're interested in creative people and events in Munich, please 'like' Munich Creative Group's Facebook page.***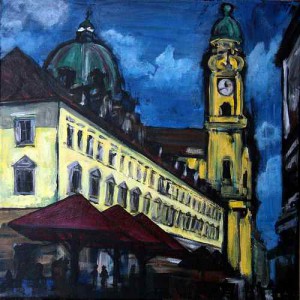 In 2011, photographer Christine Becksted and I started a new group for visual artists and other creatives in Munich, Germany. As Munich Creative Group we put together a variety of events and opportunities for people interested in the arts to connect with each other.
K.I.T.A.C. meetings occur every two weeks and are designed for artists and other creatives who are working on independent projects and just need a little kick in the ass to help bring those projects from good to great. We have a few groups going now, some which meet for breakfast and others which meet evenings.
Creative Drinks are also semi-regular events, casual get-togethers for creatives and those interested in the arts to come together.
We also put on additional events, including pop-up galleries, art exhibits, and salon evenings. Watch our Facebook page for announcements.