Dublin at Mixed+Media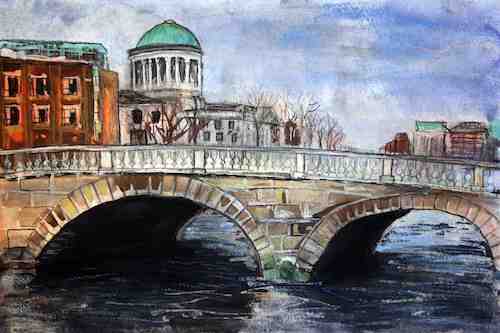 Father Mathew Bridge, Dublin, 25 x 38 cm, mixed media on paper, €120, ©2012 Julie Galante. On display at Mixed+Media in Munich through 18 March 2012. Can be purchased online at DaWanda.
I spent several weeks in Dublin in the winter and spring of 2009. I loved the city on grey days and on sunny days – both personalities fit it well. I was away from my painting studio, so I spent my time there exploring photography and doing quick sketches around the city. I guess that's why it felt like a good subject to which to return for this mixed media project – somehow I associate it with works on paper.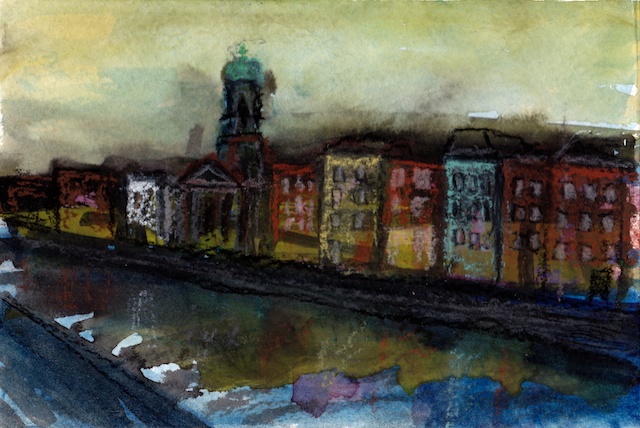 Dublin Riverfront, 10 x 15 cm, mixed media on watercolor paper, ©2012 Julie Galante. [SOLD]
I've only done one other finished piece featuring Dublin. This one incorporates paper that I picked up there – pieces of a city map and other local items. If you look closely, you can make out a pint of Guinness in the sky.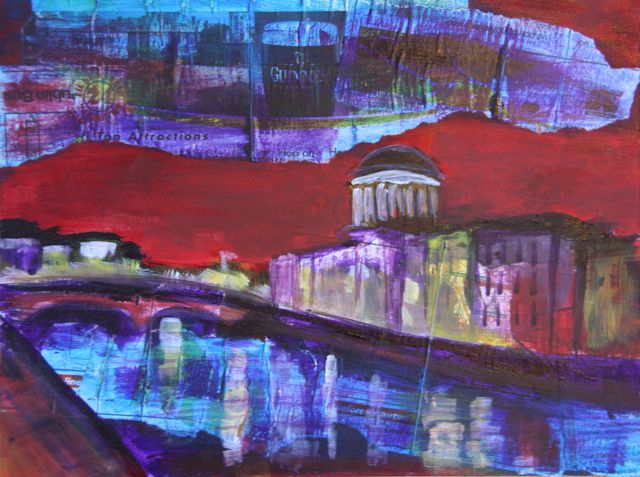 Dublin collage, 18 x 24 cm, acrylic and found paper on hardboard, €120, ©2009 Julie Galante. Available in my online shop.
Would you like to hear about upcoming events featuring my work? Keep up with me by liking my art on Facebook or signing up for my mailing list.