The Hippodrom at Mixed+Media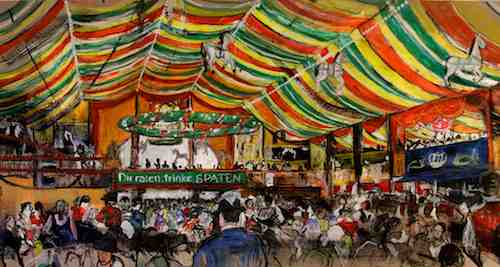 A messy afternoon in the Hippodrom, 100 x 200 cm, mixed media on recycled drawing paper, €690, ©2012 Julie Galante. On display at Mixed+Media in Munich through 18 March 2012.
At two meters wide, this is possibly the largest piece of art I've made so far. It consists of several layers of drawing and painting built up on a grey recycled drawing paper. Acrylic, gouache, and watercolor paints were used, as well as charcoal, conte crayon, pastels, ink, wax crayons, and colored pencils. The general idea was to make a recognizable image that still felt messy and chaotic – kind of like an afternoon in an Oktoberfest tent feels. Some areas are more detailed than others, and everything seems to get a little hazy around the edges. And the carousel horses floating around near the ceiling? Just plain bizarre.
I've depicted this scene from the Hippodrom in my art a couple time before, in oil and on a much, much smaller scale. (Both of these paintings now hang in private collections in Munich.)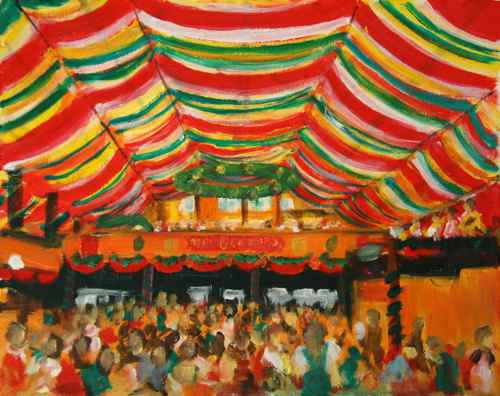 Inside the Hippodrom, 24 x 30 cm, oil on canvas, ©2011 Julie Galante.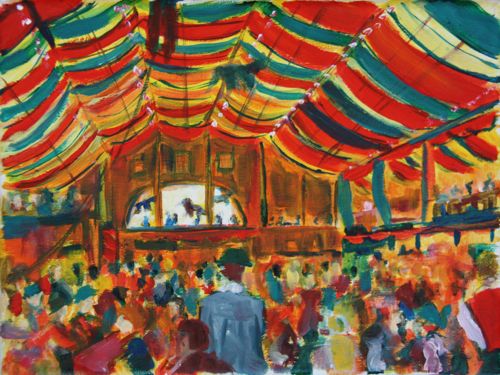 Hippodrom, 24 x 18 cm, oil on canvas, ©2010 Julie Galante.
I'm especially drawn to the vibrant colors of the Hippodrom tent – they're so intense they're almost suffocating. You'll notice that they are much more muted in the mixed media piece than in the oil paintings. This is due to the different qualities of the media I used, and particularly because I started on a gray background for the mixed media piece but on bright white canvases for the oil paintings.
I really enjoyed working on such a large scale for this mixed media piece. I'm ready to try it again – all I need to do is figure out what the subject matter for my next one will be. Any ideas?
Would you like to hear about upcoming events featuring my work? Keep up with me by liking my art on Facebook or signing up for my mailing list.