Don't let art make you feel stupid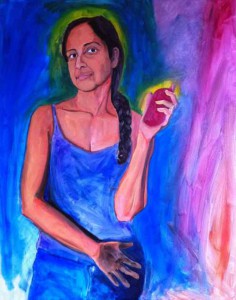 I talk to a lot of people who are intimidated by art. People who are intelligent and articulate on a wealth of other subjects seem to clam up when it comes to drawings or sculpture. So often I hear things like, "I don't know anything about art, but I really like this painting. The colors are stunning." But see you do know something about art, I want to reply. You know what you like, and in this case you even told me why. That's a whole lot more than nothing.
Why aren't we comfortable with our own tastes in art? There's an elitism in the art world that seems to intimidate people more than elitism in other creative fields. People feel free to embrace their own tastes when it comes to other media, but when it comes to visual art, so many seem to doubt themselves to the point where they avoid the subject all together. Ask someone their favorite movie or band, and they're usually happy to answer you; ask them their favorite artist or painting and you'll often get discomfort.
Are you unsure about your taste in art? Are you comfortable discussing your favorite painting in a museum, or are you worried that more learned people are listening in and chuckling to themselves about what you say? Are you confident about buying art, the way you're confident buying a new album or movie ticket?
Not comfortable? Here are a couple thoughts I have about how you could start to improve your relationship with art. 
1. Start with what you like. I don't care if it's Damien Hirst or Thomas Kinkade; you like what you like. For now let's just ignore all the stuff you don't get, and focus on what you do. Can you list any artists or artworks off the top of your head that you like? No? That's OK – let's go find some. Check out your local museums and galleries and art fairs. Make notes about what interests you; collect business cards from artists whose work you admire.
The internet is another good place to go trolling for art. Check out art blogs and artists' websites; many museums have their collections online these days; the Google Art Project is pretty cool. As you find images you like online, bookmark them or save them to Pinterest – a website that lets you collect images you like from around the web (I've been using Pinterest for a couple months now, and I like it!).
2. Once you've started getting a feel for what you like, dive a little deeper. Now it's time to learn more. See if you can describe what attracts you to a certain piece. Choose an artist or two and do a little research on them (the internet is great for this). Ask a gallerist to tell you more about a particular artist. Ask an artist about herself or her work. Find out about how pieces are made. Knowledge is the perfect way to combat that "art-makes-me-feel-stupid" feeling.
Putting a little bit of time into thinking about art that you like will help you get more out of art viewing. Make better use of your time in a museum by going straight for what you like instead of wasting your time in a section that doesn't inspire you. Subscribe to blogs by artists whose work you admire. Sign up for the mailing lists of local galleries that show work that appeals to you. In short, spend more of your time looking at art that does something for you, and less time hanging out with art that does nothing but make you feel stupid.
—-
So why bother with any of this? Because art can enrich your life. Art stimulates your brain. When you're not worried about whether your opinions are valid, you're more likely to enter into situations and dialogs that will stimulate and challenge you, and this simply makes your time on this planet better. At least that's what I think.
Do you get intimidated by art?