Day 25: more Munich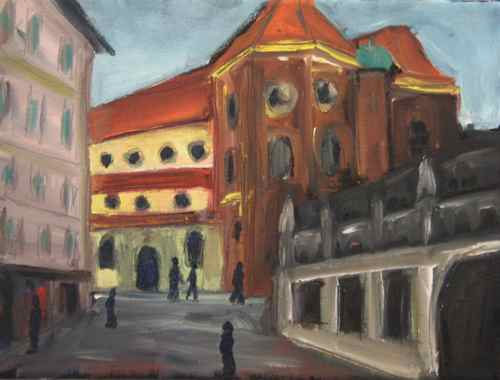 Alter Peter Study, 18 x 24 cm, oil on canvas, ©2011 Julie Galante. Original painting available on Etsy.
I hope you all had a wonderful Thanksgiving. In honor of Black Friday, I've added a new batch of paintings to my Etsy store, including my pomegranate painting and the last of the leaf paintings. Way more comfortable than sleeping outside Best Buy in the rain! Which reminds me, over at Studio Mailbox, TJ has several other ideas for your gift shopping today, including handmade items from around the internet.
This weekend I am going to be crazy busy getting ready for my Open Studio. Lots of nails will be going in the walls as I decide where to hang everything. Also, I need to figure out what we'll be serving. Probably Christmas cookies of some sort, in addition to other stuff. I'd love to serve glühwein (hot mulled wine), but I don't think that'd be feasible unless I rented some equipment, and I'm probably too lazy to do that. Could be an idea for next year, though.
November is Art Every Day Month. I'll be posting a new small painting here each and every day. After they have had time to dry (a couple weeks), most of the original paintings will also appear in my Etsy shop. Paintings from the beginning of the month are already there! Christmas cards, too.