Day 20: revisiting Wienerplatz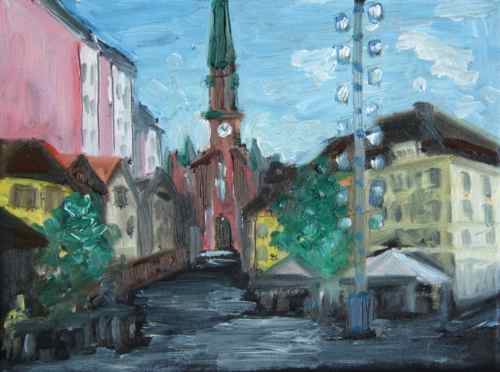 Wienerplatz Study #3, 18 x 24 cm, oil on canvas, ©2011 Julie Galante. [SOLD]
I am really enjoying painting every day, even though some days I sit down at the easel and feel a bit idea-less. Nothing sounds appealing to paint. None of my reference photos look interesting, none of the still-life objects I have in the house look painting-worthy. I hate that feeling. But, the commitment I made (however non-binding) to post a new painting each day of November is usually enough to get me to do some painting anyway, even on those days when I'm resisting it. That is what I love about Art Every Day Month – it pushes me to create paintings I wouldn't have otherwise made. Some days the muse just needs a good flogging.
This painting is a variation on a scene I have painting a couple times before. Today was one of those idea-less days, so I decided to go back to a scene that I knew I liked.
How do you get going on days when you don't feel inspired?
November is Art Every Day Month. I'll be posting a new small painting here each and every day. After they have had time to dry (a couple weeks), the original paintings will also appear in my Etsy shop. Paintings from the beginning of the month are already there! Christmas cards, too.