Day 3: a snowy day at the Christmas market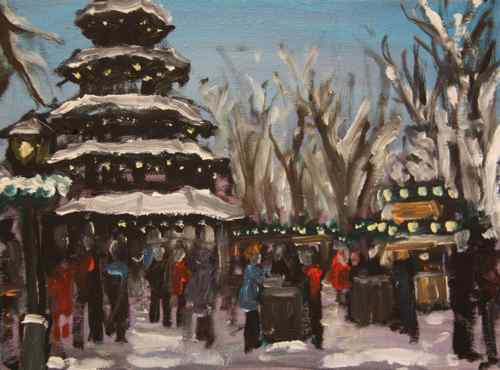 A snowy day the the Christmas Market (Chinese Tower), 18 x 24 cm, oil on canvas, ©2011 Julie Galante. Original painting available in my Etsy shop.
I realize I'm fast forwarding a bit from yesterday's autumn leaves, but I am so excited for Christmas market season I can hardly stand it. December is my favorite month of the year here in Munich. There are Christmas markets all over the city, clusters of little stands decorated with lights and pine branches. They sell hot mulled wine, roasted chestnuts, and other delicious things. Painting Christmas market scenes just makes me all the more eager for the season to start.
This particular Christmas market is held in the middle of the English Garden (Munich's large city park) in an area that is a beer garden during the rest of the year. The round five-story wooden structure in the middle is known as the Chinese Tower.
November is Art Every Day Month! I'll be posting a new small painting here each and every day. After they have had time to dry (a couple weeks), the original paintings will also appear in my Etsy shop.