Next?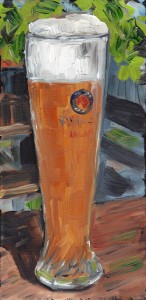 It has been a busy several weeks around here. I've had back-to-back art shows on in Munich since mid-September, but finally the majority of the work for them is over and I have time sit back, look around, and figure out how to tackle the next batch of excitement. There's a whole lot more coming up.
Right now I'm putting together a Kickstarter project to help fund a body of work I will create during an artist's residency in Tokyo early next year (if you're not familiar with Kickstarter, it's an interesting way for people to raise money for all kinds of creative projects – check it out). I'm in the process of coming up with rewards (original artwork, postcards, and more) for those who participate. More about this soon.
I plan to start Art Every Day Month on Thursday, so this blog is about to get a lot more active. I probably won't manage a post every single day like I have in years past, but I will draw or paint daily and post about it when I can. I'll be starting the month in my Munich studio, and ending it in Assisi, Italy, where I will be an artist in residence at Arte Studio Ginestrelle for a few weeks. Needless to say, I'm really looking forward to that experience.
While I'm in Assisi, my husband will be busy getting us moved out of our Munich apartment. We've loved our five years in Germany, but it's time for the next adventure to begin. Due to the move, my Etsy shop will be closed from the end of November through as late as March 2013 (depending on how long it takes us to find an apartment). If you're hoping to do a little Christmas shopping there, be sure to fit it in early.
I just realised I will be living in four different countries over the next four months. At least my life won't be boring…