Mixed media sketches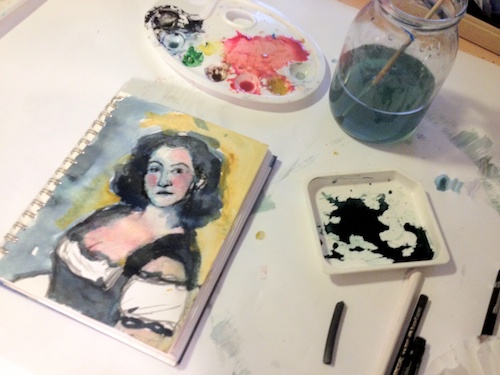 My artist's residency in Assisi, Italy, starts in two weeks. I am so excited. Being able to focus on nothing but art in such a gorgeous environment is going to be heavenly. For now I am fighting a million little distractions – planning the move, visa application, saying goodbye to our friends in Munich, and so on. But, thanks to Art Every Day Month, I've still been making time to do a little bit of art each day. Above is a preparatory mixed-media sketch for a larger piece I'm hoping to get finished before I leave. It's a portrait of a friend wearing a traditional Bavarian dirndl. I've made a whole series of oil paintings of women in dirndls, but this will be the first one on paper using layers of wet and dry media. I think this one will have a much different feel.
My Etsy shop is closing! Readers of this blog can receive a 10% discount in my Etsy shop from now until it closes November 26th by using the coupon code GOODBYEMUNICH at check-out.